Equipments
FLUKE 5500A -
Multi Product Calibrator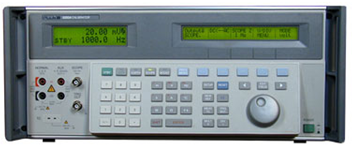 The 5500A is a revolutionary product that addresses a wide cross-section of your electrical calibration work load. It sources direct voltage and current, alternating voltage and current with multiple waveforms and harmonics, two simultaneous voltage outputs or voltage and current, and simulates power with phase control, resistance, capacitance, thermocouples and RTDs. The 5500A's Oscilloscope Calibration options provide level sine wave, fast edge, time mark and amplitude signals for calibration of oscilloscopes up to 600 MHz.
FLUKE 8846 A -
Digit Precision Multi meters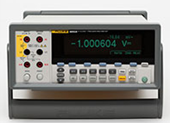 Dual display and versatile graphical capabilities
The 8846A feature a unique dual display that allows you to measure two different parameters of the same signal from one test connection. To reveal signal quality issues like drift, intermittent and stability, view data as a real time trend plot or histogram, with the unique analyze mode. You won't find graphical display capabilities like these on any other instrument in this class.
Fluke Calibration 1524 -
Handheld Thermometer Readout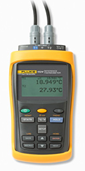 The 1524 Reference Thermometers from Fluke's Hart Scientific Division measure, graph, and record PRTs, thermocouples, and thermistors. These thermometer readouts deliver exceptional accuracy, wide measurement range, logging, and trending, all in a handheld tool you can take anywhere.The 1524 lets you handle field applications, laboratory measurements, and data logging with ease. And with the dual channel measurement capabilities of the model 1524, you can do twice the work in half the time.
Three sensor types
PRTs: –200 °C to 1000 °C
Thermocouples –200 °C to 2315 °C
Precision thermistors: –50 °C to 150 °C
Accuracy
PRTs: up to ±0.011 °C
Thermocouples : ±0.24 °C for J,K,L,M
Precision thermistors: ±0.002 °C
FLUKE 9142 -
Field Metrology Wells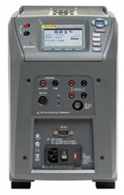 The new 914X Series Field Metrology Wells extend high performance to the industrial process environment by maximizing portability, speed, and functionality with little compromise to metrology performance.
GE Druck PACE5000 -
Modular Pressure Controller
Elegant and economical solution to pressure control for production, test, and calibration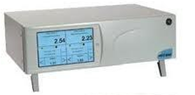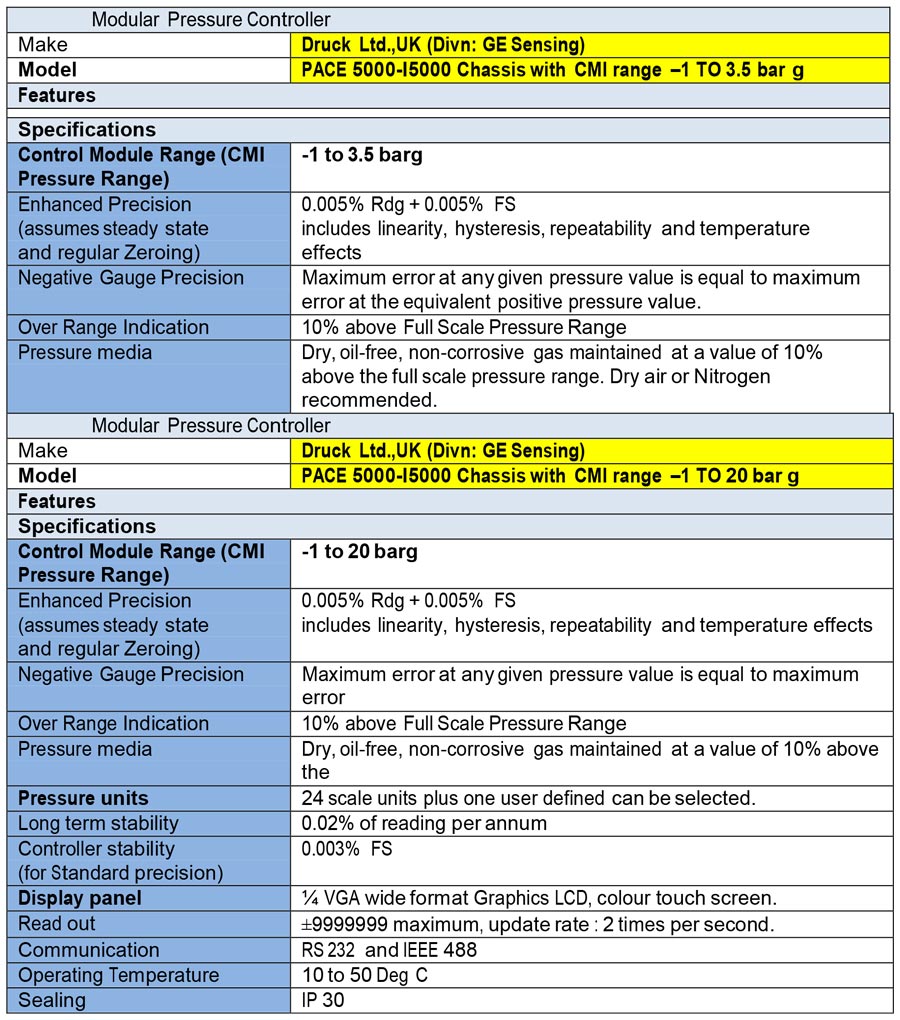 GE Druck PACE1003 -
Precision Pressure Indicator (3 Internal Sensor, 2 IDOS Connection)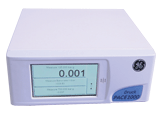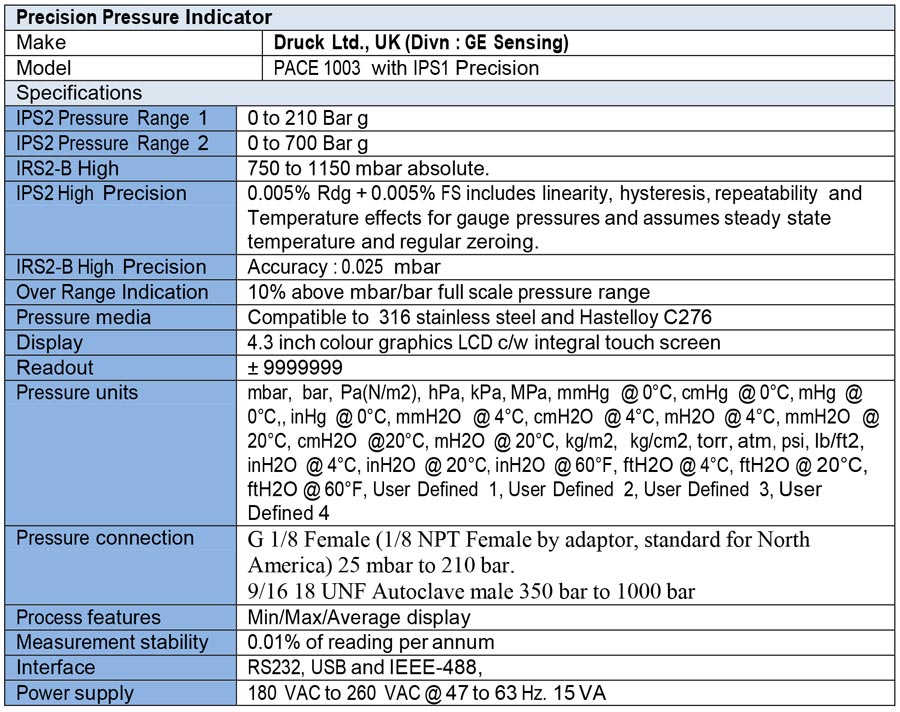 V2M8 -
VACNIK Direct Drive Two Stage Rotary Vacuum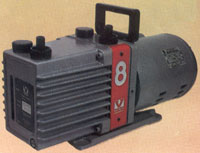 a. Forced Oil Lubrication system
b. Integral oil & air suck-back protection device
c. A Thermal overload safety device.

Displacement : 8m(3) /hr(135 1pm)

Complete with 1 phase motor 230V 50Hz and one charge of VACNIK Oil no.15,kf-'o'Ring
PV212 -
Druck Hydraulic Hand Pump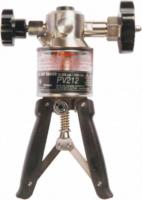 Pressures to 10,000 (690 bar) or 15,000 psi (1000 bar)
Compatible with distilled water or mineral oil
Quick priming function
Optional adjustable pressure relief valve
PV212-10K (0 to 10,000 psi/0 to 700 bar)
PV212-15K (0 to 15,000 psi/0 to 1000 bar)
DPI 620 -
Advanced Modular Calibration and HART® Communication System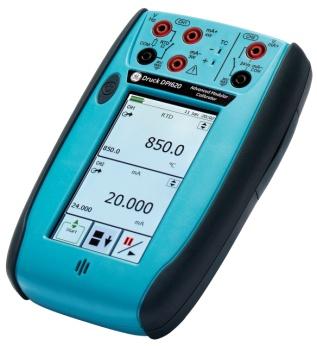 Advanced modular calibrator, DPI 620
This is a battery-powered instrument for electrical measure and source operations and HART® communications; It also supplies the power and user interface functions for all the add-on modules. You can use the touch-screen to display up to six different parameters.
DPI 620 Features
HART digital communicator
Easy-to-use, with video quality touch screen, which can be operated by a gloved hand
Weather-proof to IP 65
Can display up to 6 active readings
GE Druck UPS III -
Loop Calibrator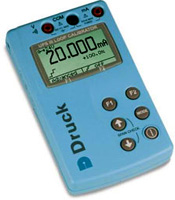 The GE Druck UPS-II Current loop calibrator is an advanced handheld process calibrator tool. The GE Druck UPSII Loop Calibrator can power (24 Vdc) and read 2-wire transmitters to perform field calibrations. Output currents are adjustable to a resolution of 10 microamps in both source and transmitter simulation modes
Features
Sources and reads milliamps
24 Volt internal loop-power
Powers and reads two-wire transmitters
Reads and simulates dp-transmitters
Fixed calibration currents
Auto-stepping for handsfree calibration
Auto-ramp cycling for endurance tests
Fixed currents for valve stroking
GE Druck DBC 650 -
Temperature Calibrator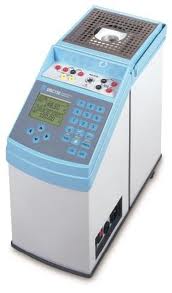 This innovative calibrator combines a highly stable temperature source with precision measurement of temperature probe signals, providing a truly stand-alone temperature calibrator suitable for laboratory, workshop and portable use.
Features
Ranges: 50 to 650 deg C.
Fast response: Rapid heating, cooling and settling.
Stability: Druck control technology provides excellent temperature stability.
Reference probe: PT 100 reference probe input.
RS 232 interface: Allows fully automated PC control.
Switch test: Open/closed detection with hysteresis displayed.
Ramp, preset, step: Programmable Ramp, Preset recall and calibration Step sequences.
Reduction Inserts: A wide range of standard interchangeable inserts are available. Inserts can also be supplied to specific requirements.
Fluke 725 -
Multifunction Process Calibrator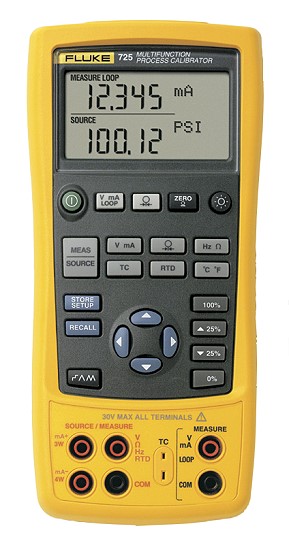 The Fluke 725 Multifunction Process Calibrator is a powerful, yet easy-to-use field calibrator. Use the measure and source functions to test and calibrate almost any process parameter.
Features
Measure volts, mA, RTDs, thermocouples, frequency, and ohms
Source/simulate volts, mA, RTDs, thermocouples, frequency, and ohms
Measure and source pressure using Fluke 700P series pressure modules
Dual display shows input and output
Built in 24V loop power supply
Programmable step and ramp for automated testing
Yantrika-REW313NAO -
Pneumatic Dead Weight Tester
Dead Weight Testers are the most accurate and stable pressure standards and are widely used in industry, academia and research institutes to calibrate pressure measurement devices like pressure transmitters and pressure gauges & Hydrotesting of pipeline. We also manufacturer of Pneumatic Dead Weight Tester & Piston Gauge.
Accuracy better then 0.015% available.
Over All Range : 0.2-35 bar, 5-500psi, 0.2-35 kg/cm²
Various Pressure Unit available: bar, mmHg, mmH2O, inHg
Pressure generated by a ram screw. (inbuilt)
Base Machine Weight : 20kg Aprx.
Operating Fluid : Air
Comark C9500 -
Digital Differential Pressure Meter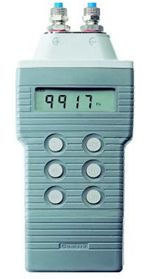 Typical applications include boiler flue draft, air conditioning filters, laboratories and clean rooms, process pressures, service and maintenance and the calibration of other instruments.
Features
High accuracy, fast responce
Dual inputs for gauge and differential pressure measurement
Positive and negative (vacuum) pressure measurement
Adjustable zero and selectable auto power off
Maximum, minimum pressure and hold function
Averaged reading function
Dust and waterproof to IP67 (BS EN 60529, IEC529) standards
Selectable pressure units:psi, mbar, inH2O, mmH2O, mmHg, inHg, torr, Pa
Intrinsically safe (IS) versions
Silicone protected (SIL) versions
Intrinsically safe silicone protected (IS/SIL) versions
Range:-0-30 PSI (0-2 bar)
DPI 104-2Nos -
Digital Pressure Gauge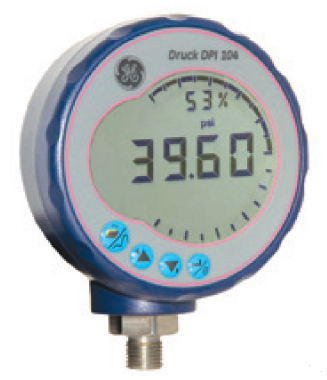 The DPI 104 is a microprocessor-controlled digital pressure gauge that combines precision and functionality in a compact, robust and simple-to-use package. The DPI 104 matches advanced silicon sensor technology with several convenient design features resulting in an accurate, versatile yet affordable digital test gauge.
Process monitoring and control
Test and calibration The DPI 104 can be used as a stand-alone process indicator or as a pressure reference for use with our widely popular hand pumps
Range:-0-10000 psi
Range:-0-20 bar
DN 15-DN 200 -
Safety Valve Test Bench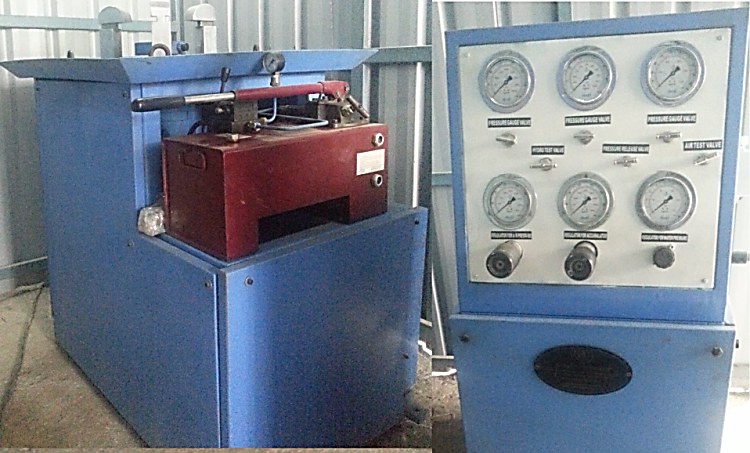 Used for pressure tests: leakage test, body test und functional tests on valves and other objects.
Features:
Suitable for flanged end safety valves. For threaded types safety valves, adaptor plates ( optional ) are to be used.
Test Media : High pressure water and High Pressure Nitrogen Gas
Controls High Pressure Regulators , Ball valves & safety relief valves
Model: - DN 15-DN 200
DN 200 : 60 BAR
Nitrogen testing: 140 bar.
water testing: 210 bar
475 -
Field Communicator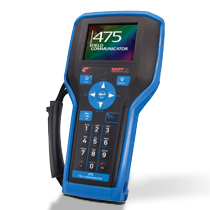 The 475 Field Communicator is designed to work both as a "Bench Tool" and as a "Field Tool".
As a Bench Tool, the 475 Field Communicator would typically be connected to one or more FOUNDATION fieldbus devices on the bench with no other host system connected to the segment.
As a Field Tool, the 475 Field Communicator would be connected to a live FOUNDATION fieldbus segment in the field that is controlled by a Host Control System.
Normally (but not always) this Host Control System acts as the Link Active Scheduler (LAS) for the segment. When the 475 Field Communicator detects that there is a LAS on the segment, it joins the segment as a "guest". For most operations, the Host Control System and the 475 Field Communicator should be able to co-exist on the FOUNDATION fieldbus segment with no problems. Other operations, such as changing the node address of a fieldbus segment, require careful coordination between the Host Control System and the 475 Field Communicator.